Yes, I do know the title sounds like an enumeration of terms which do not have a lot in common. Or do they? First of all here comes a picture. It is often the first hint for solving a riddle.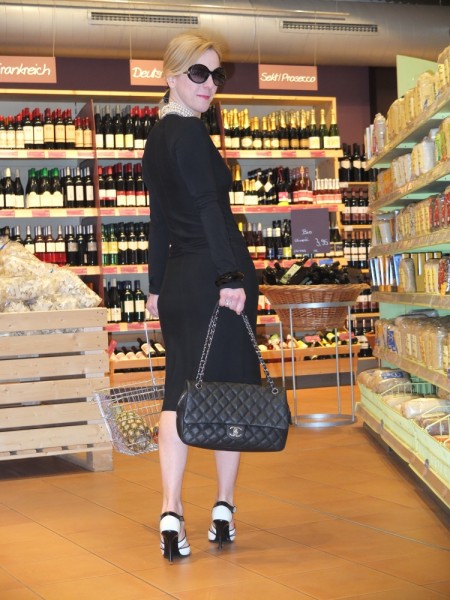 Maybe someone remembers the last Chanel fashion show? The Fall Ready-to-Wear collection 2014 was presented in an imaginary luxury supermarket filled with thousands of everyday products. A lot of the items had been re-labelled in "Chanel jargon" (e.g. Haute Ketchup, Jambon Cambon, Tweed Tea or Coco Choco). Karl Lagerfeld sent the models on the grand magasin catwalk wearing pragmatical but stylish Chanel trainers and partly also workout-wear.
Since then, I have been thinking about this show and its related topics and I finally decided to repeat the scenery by myself, only in reverse. According to Lagerfeld's comment on the fashion show on Style.com: "If you want to look really ridiculous, you go in stilettos in a supermarket. " This is exactly what I did. I also had photos taken in front of the Chanel store in Frankfurt wearing sportswear.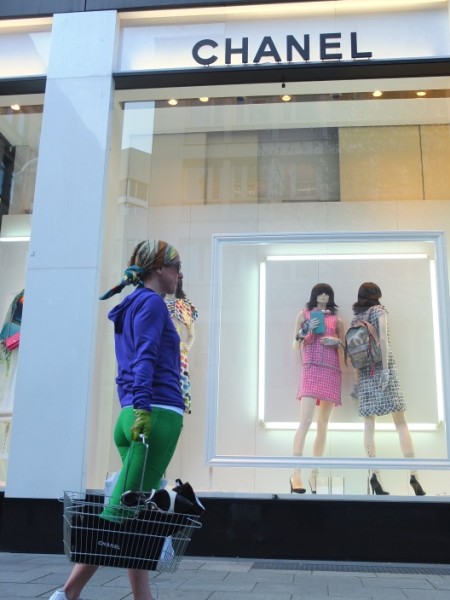 Why shouldn't I! I was born and brought up in a communist country, Albania. At that time, supermarkets did not exist, let alone that we would have ever heard of Chanel. We should believe that department stores are a decadent phenomenon of the Western countries, an invention of the capitalists to keep off the working class from the class struggle by deceiving illusionary needs. We knew the supermarkets only from the Italian television which we secretly watched using improvised antennas.
And these days? Well, one naturally shops at a supermarket while probably wearing Chanel and yes, there are even bananas available in abundance! (Ex-Eastern-Bloc readers will easily understand me when it comes to bananas).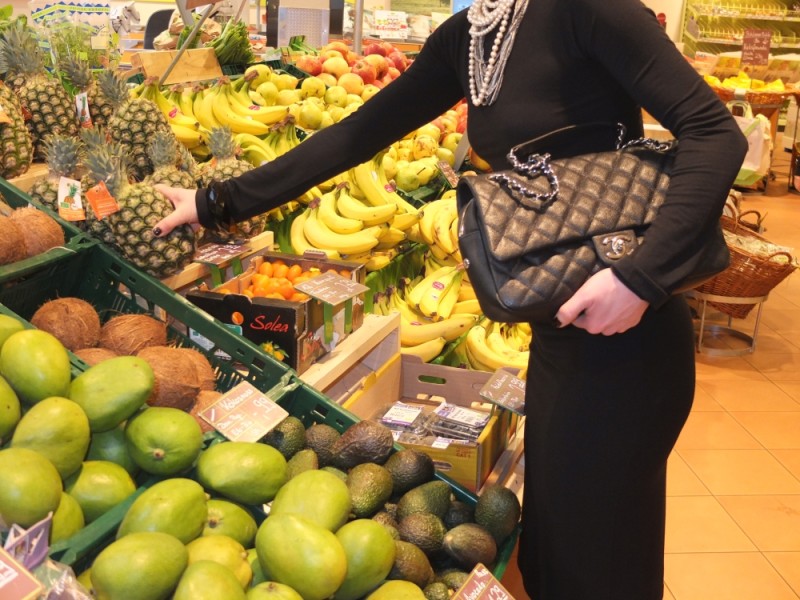 Recently in Milan and Frankfurt, I saw Chinese customers – citizens of a formally still socialist country – standing in queue in front of the Chanel boutiques. It brought back long-buried memories of the queues at the shops during the communist time in Albania as many goods became rationed. Is that irony of history? Is the quilted Chanel 2.55 the new Mao uniform of Chinese women? Is this how globalization feels like? Is it the famous consumerism of capitalist systems, searching for identity, happiness and the meaning of life through excessive consumption? Am I happier today than during the communist era just because of shopping in the supermarket carrying a Chanel bag?
A lot of questions which I cannot answer. But I do know what we strove for back in the days of the communist time: That nobody dictates us whether we should wear sportswear, torn jeans or the little black dress; whether we should join the affluent society or the anti-globalists; whether we should believe in the capitalist world order or in the beautiful dream of the socially just world. I call that freedom ….
Long live the freedom! It is one of our most valuable goods!