The previously barely known to the general public Lupita Nyong'o in a scarlet Ralph Lauren dress and Emma Watson in a backless, cool red Dior Couture apron dress with slim black trousers beneath at the Golden Globes in January 2014 (I guess the dress trousers combination in January should sound the fashion bell for the HeForShe campaign in September), the red blazer (one of seemingly hundreds of the same) worn by the Chancellor Angela Merkel at the World Cup Final in July, the uauuu red duchesse high-waisted shorts worn by the modern bullfighters models army at the finale of the Dolce & Gabbana fashion show in September and the red Alexander McQueen dress worn by Amal Alamuddin during the rehearsal dinner before the wedding with George Clooney (is he really no longer a bachelor?). Year 2014 was quite full of red fashion moments.
As red has always been one of my favorite colours I do often invent reasons to wear red. In the case that the end of the year holidays have not caused a red-shock, here are my top ten empirically tested occasions for wearing red:
10. Of course red on Christmas and New Year's Eve, because Santa does it as well!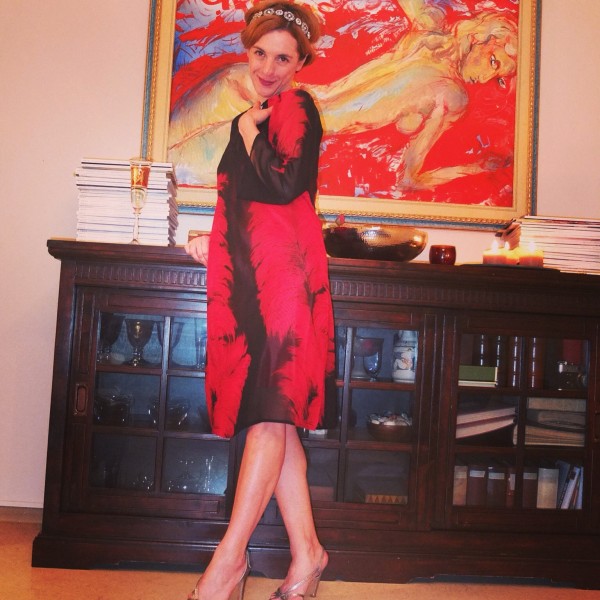 9. Do wear red with pink: Who says that the two colors do not match together? (Sarah Jessica Parker in Prabal Gurung has led the way a few years ago!)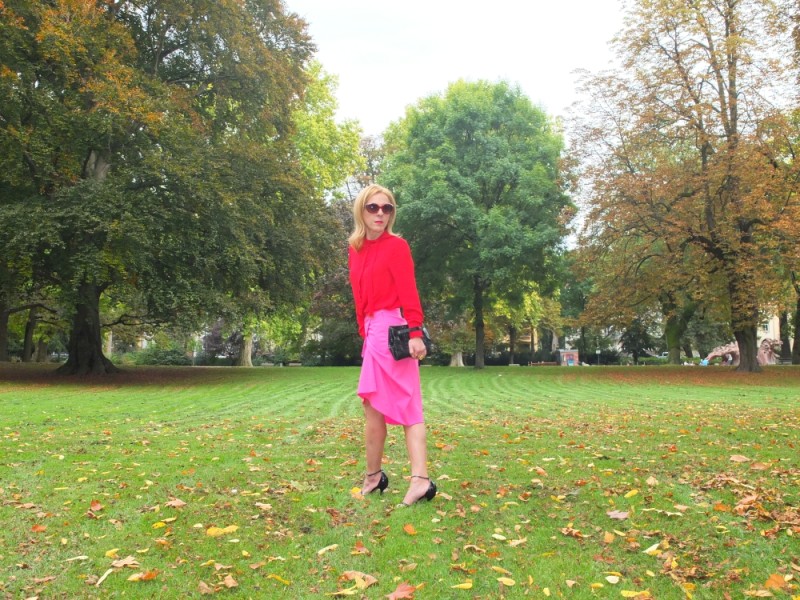 Silk shirt by Massimo Dutti, skirt by Viviene Westwood Red Label, Prada sandals, Dior sunglasses, vintage croco-clutch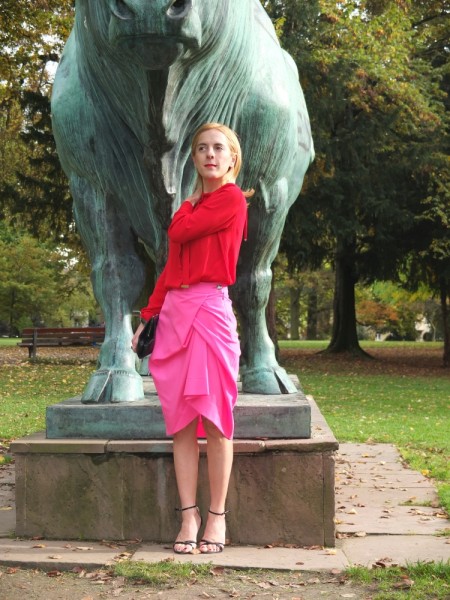 8. Do not worry wearing red clothes in the countryside, in the case that you meet bulls! It is a myth that bulls become aggressive because of the red colour. They are colour-blind!
7. On a first date: If the date does not go well even wearing red clothes, do not waste your precious time for a second date. Life is too short for having bad dates!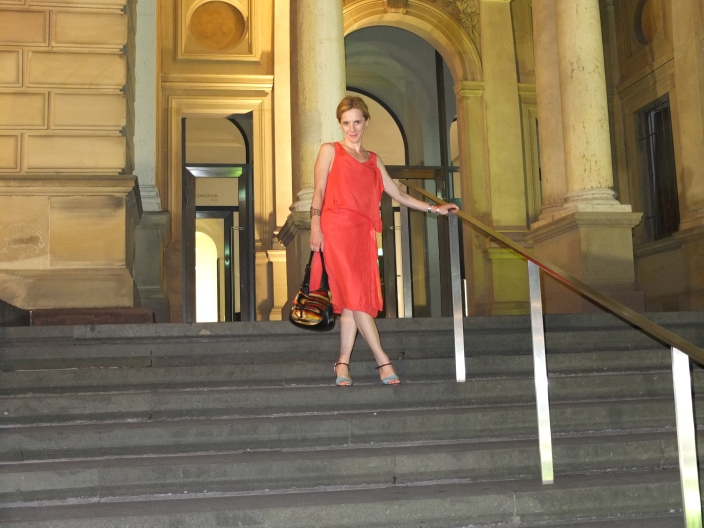 Dress by the Italian brand Peacock Blue, Gucci bag, Marc Jacobs sandals
6. How about wearing a red shirt dress at the office on a casual Friday? Sheryl Sandberg (COO of Facebook) and Marissa Mayer (CEO of Yahoo) can be admired wearing red also on other days of the week …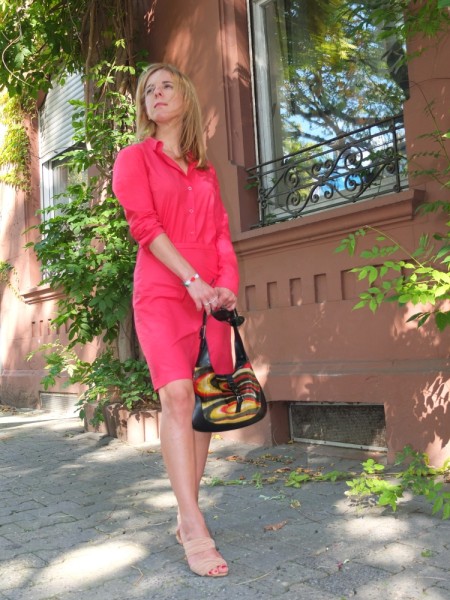 Jil Sander dress, Gucci bag
5. Red to red to red in red surroundings, actually as camouflage 😉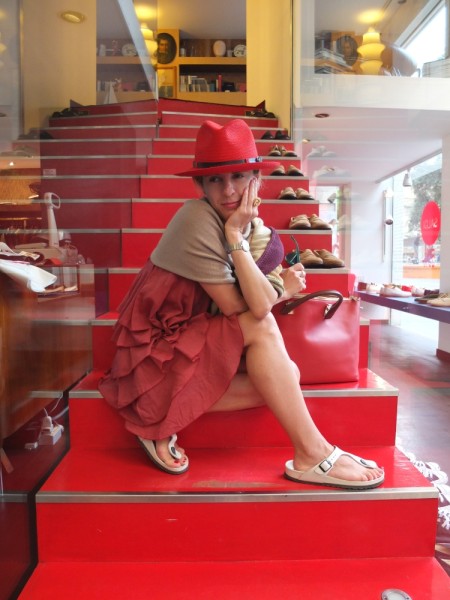 At the menswear boutique Lacerba in Rimini wearing a dress by Marzia Genesi Sea, Dries van Noten shawl, Birkenstock sandals, Grevi hat and Chloe tote bag.
4. Wearing a red dress at an event makes a shooting target for the event photographer out of you (just in case you want to feel yourself as a shooting star!).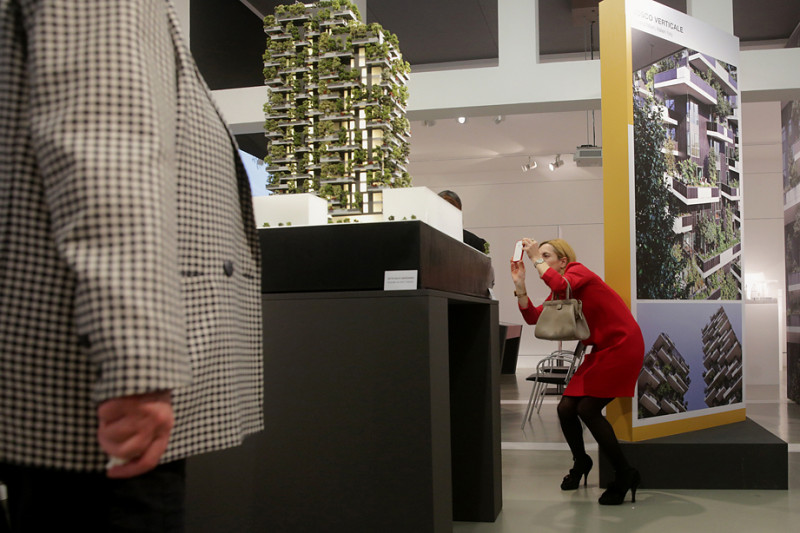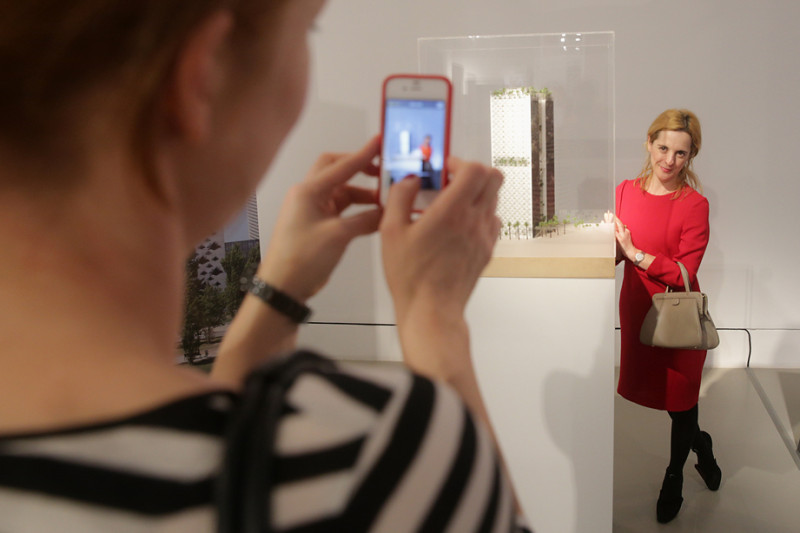 Photographies taken by Alexander Paul Englert at the preview of the exhibition "Best High Rises 2014\2015" at DAM Deutsches Architektur Museum Frankfurt   
3. On the National Day of Albania (November 28) red is the color of choice (for me and approximately 5 million other Albanians), preferably combined with black!
2. Also in Germany, the red-black combination would not be wrong: black-red government coalitions, World Cup football matches ….
1. Do wear a red glamorous ball gown for an evening alone at home, just for celebrating yourself.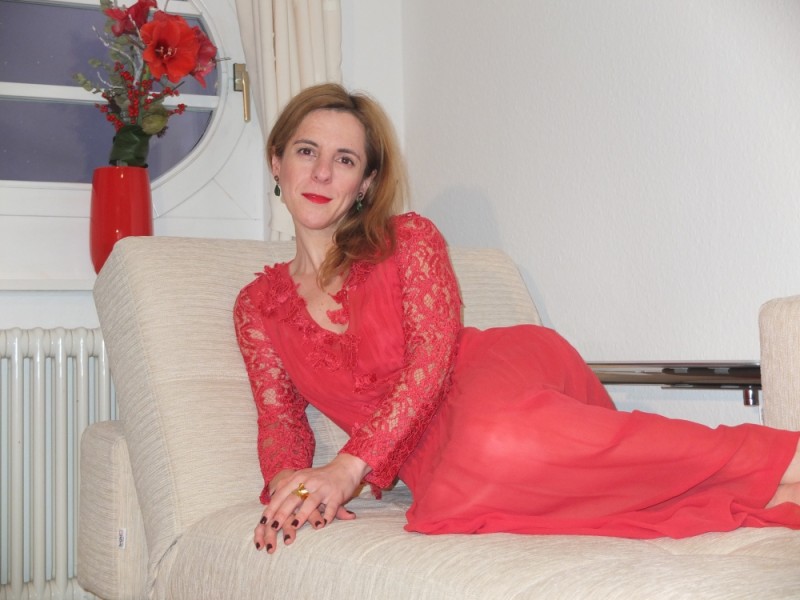 Chiffon gown by Philosophy di Alberta Ferretti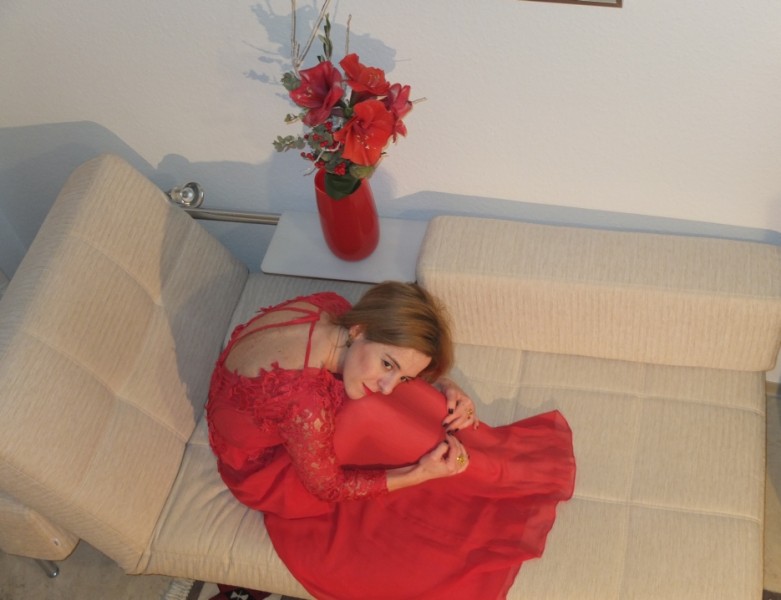 In the belief that my female readers (I have to admit this time, I had mainly my female readers in my mind, without wanting to be discriminatory toward men!) will take these Red-Charts only partially as seriously as I do, I wish to all my (male and female) readers a good start in the year 2015!
May this year be a year full of energy, joy and of course full of amore, just like the colour red!