I have surely used the magic word "shoes" more than once in this blog, but a blogpost specially dedicated to shoes was missing. When I started writing, I remembered that "Sex and the City" episode "A woman's right to shoes". Do you remember? Carrie and Stanford attend a baby shower party thrown by a friend. Upon arriving, every guest has to remove his footwear according to the house rules. When Carrie plans to leave the party, she discovers that her brand new Manolos have been stolen …
I must admit having been one of those crazy fans who organized "Sex and the City" TV evenings with friends mixing Cosmopolitans and who even almost ruined her bank account buying a pair of Manolo Blahnik stilettos in the boutique of Marion Heinrich in Munich already at the beginning of the "SATC-mania". As it turned out later, it was a visionary investment; I do still wear those Manolos 😉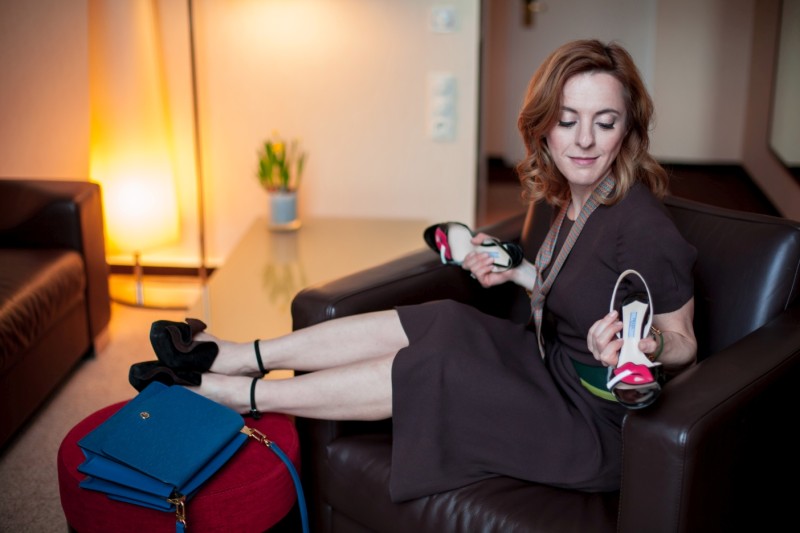 Now, some of my shoe stories are coming into my mind from the depths of my repressed memories. As Sigmund Freud has taught us, repression is the best psychological defense mechanism for avoiding threatening situations of conscious perception. The threatening situations in this case would be the sums of money I have spent for shoes in my life …
There were those red plateau high heels I bought in Dusseldorf years ago. At that time, I was a short time intern at the Legal Department of the Federal Authority for Drugs and Medical Products in Bonn and was hosted by a relative, a psychotherapist. Already in that kind of Mediterranean part of Germany, I could not miss some shopping and strolling along the Königsallee in Düsseldorf. In the evening, I came back in Bonn tired but happy with a pair of red platform pumps by the (over here unknown) Roman designer Fausto Santini. What I had not expected was, what my hostess, the psychotherapist, said when I showed her the shoes: What a phallic symbol!
Many greetings from Sigmund Freud and C.G. Jung!
Now, the time has come to analyze this sentence a bit closer. The joy over the new red shoes was probably overwhelming me, so that I missed analyzing it back then.
Let me first clarify something: Men were those who wore heels first, not women. Louis XIV of France made the heel shoes of the Persian cavalry uniform to a fashion statement in the French Royal Court. Well, I am sure His Majesty's "stylists" finally found the solution to conceal the only defect of le Roi-Soleil, namely his non-regal size of 1.63m. As if the 10-cm heels were not enough, according to a royal edict, the shoes should have red heels and soles and only members of the court were allowed to wear those red-heeled shoes. The first Louboutins were born…
The English Royal Court soon enthusiastically embraced the new fashion trend from France and Charles II appeared in red-soled French style high heels although he was 1.85 m. Go figure, David Cameron becoming a fan of Sarkozy's "Elevator-Shoes" 😉
It was merely a matter of time before the court noble women adapted the heel trend from men. Evidently, that was sort of the boyfriend look of that era 😉 The boyfriend heels were at that time what nowadays are the boyfriend jeans and boyfriend shirts. Are the martial, the sovereign, the heroic or the coolness those alleged masculine attitudes we strive imitating through fashion? Could it be that the phallic connotation of our heels is only the desire showing the militant Amazon in us by adapting elements of men's clothing?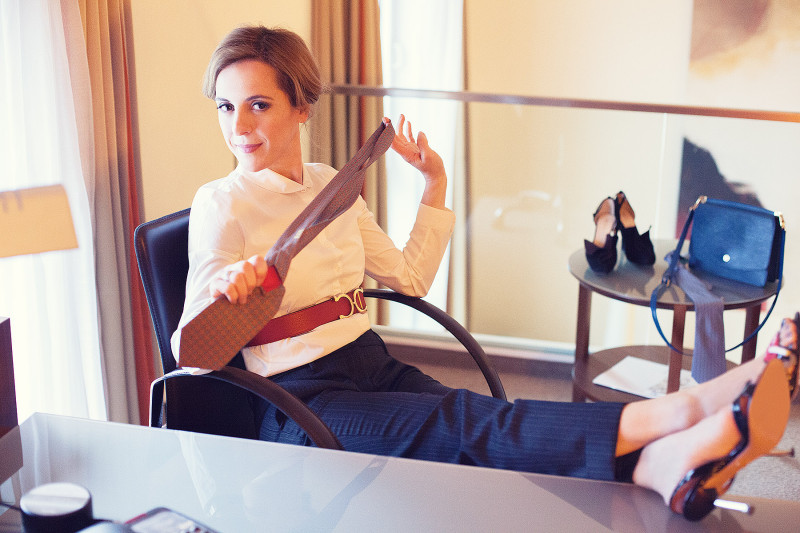 At which point of history the heel shoes made us the shy Cinderella who could find her Prince only through her lost glass slipper? What about the erotic or even sexual signals that are supposed to be sent by our high heels? Freud knew a lot about those signals … By the way, if you guessed – as I also did – that high heels are the only "suspects" when it comes to shoes and eroticism, is probably wrong. As my relative, the psychoanalyst, explained me, even ballerinas can be "suspicious" if their cleavage reminds of a low-cut dress …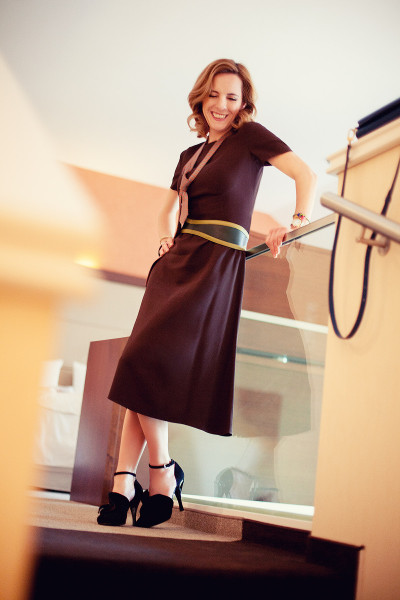 Apparently, we can be everything: sometimes the sovereign monarch, sometimes the shy Cinderella and sometimes the seductive vamp in "killer heels"! Whichever way we want to go in our shoes, we decide by ourselves, without anyone allotting us the role of the weaker gender. The code name of my dear grandmother as a member of the underground movement during the Second World War was "The Heel", because she preferred wearing higher shoes, even in combat.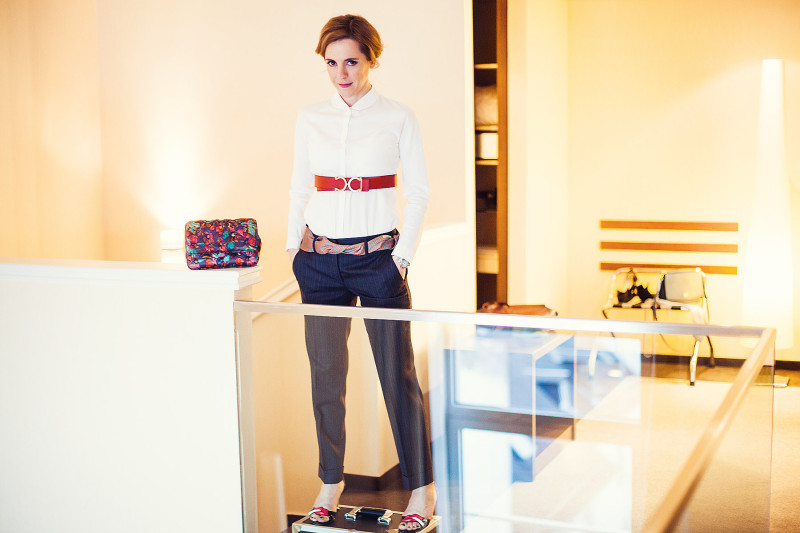 White shirt: Jil Sander, Pants and Sandals: Prada; Belt: Salvatore Ferragamo; Tie used as a belt: Vintage Hermes; Bag: Benedetta Bruzziches
Dress, High heels and Belt: Prada; Tie: Hermes vintage; Bag: Louis Vuitton vintage
Once upon a time, men were heroes in tights and highheels! We could be those heroes too!
P.S.: If you want to learn more about the mystery of shoes, I would recommend two almost simultaneously running exhibitions: "Shoes: Pleasure and Pain" at the Victoria and Albert Museum in London and "Footprint: Traces of shoes in fashion" at ModeMuseum Antwerp. More about men and high heels read here in this article by William Kremer (BBC World Service), "Why did men stop wearing high heels".
I would like to thank the team who made possible the pictures of me in this blogpost: Photographer: David Helmrich, Makeup: Tanja Marjanovic, Location: Hotel The Westin Grand Frankfurt