Brexit, Grexit, refugees, welcoming policy, Panama papers, Je suis Charlie, Bataclan, Nice,  Munich, Aleppo, Nurcia, Erdogan, Trumpification, Guccification, Burkini on the beach, Blatter and Roussef, AfP und FPÖ, UEFA "Euros" and Olympics, zero interest policy, David Bowie and Prince, Russia and Ukraine, Obama in Cuba, Chanel in Cuba, Pokémons all over the world …
Time flies. Some events are just fleeting buzzwords but some profoundly change the world.
In the middle of it, me, an elementary particle in this world, torn between "left brain" and "right brain", law and fashion, German discipline and Mediterranean easiness, between masculine pragmatism and feminine dreaminess, childlike spirit and adulthood, Nordic melancholy and Balkan passion, Jil Sander-like simplicity and Dries Van Noten opulence, and yes, sometimes between good and evil.
I certainly have no earth-shattering events to report and there's no chance of me changing the world profoundly. I'll leave that to the Kardashians of this world. This is just an attempt to share with the world in this enormous electronic diary called WordPress my thoughts on life and style, history and culture, art and travel, male and female, home and abroad, and my view of beauty.
Almost everybody will be familiar with those series recapping the story so far at the beginning of each episode, even if the last episode was shown only a week ago. Well, this blog celebrated its third birthday in June and I have made myself scarce with blog postings during the last two years. It's therefore about time to look back over the last two years.
With this in mind, here is "the story so far" in pictures. 
2015 began like this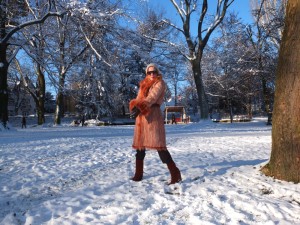 and ended like this.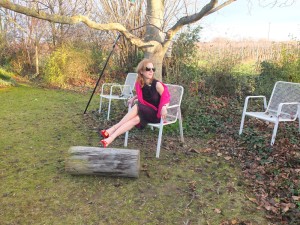 Yes, the second picture was taken in Germany and not somewhere in the southern latitudes on 25 December 2015. Let no one claim that global warming does not exist. Al Gore, the nearly-President of the USA, was apparently right with his "An Inconvenient Truth" documentary, didn't he? Nevertheless, I am now full of confidence that, following the signing of the Climate Convention in Paris by all 195 member states on 12 December 2015, at least I won't have to take snowy pictures in early summer … The many sleepless nights suffered by the Convention delegates must have paid off somehow.
In mid-February 2015, I concluded my European travel pentalogy (that's a series in five parts) Amsterdam – Parma – Florence – Lyon in Paris. No normal earner's bank account – and certainly not one belonging to a lifestyle victim like me – could expect to survive such tours of the absolute fashion and gourmet Meccas within only three months unscathed. Taking care of the account was therefore back on the agenda!
After all, you can also dream about travel and far-off countries. At the premiere of the ballet "Cinderella" in the neo-baroque Hessen State Theatre Wiesbaden, for example, one could have a lovely dream about admiring the Danseur Etoile of the Opera Garnier de Paris in a black and white Chanel-meets-Yves-Saint-Laurent outfit.
And, attempting Doctor Zhivago filmic-dramatic poses in Frankfurt downtown even managed to conjure up a touch of vintage Hollywood nostalgia into a normal, still-wintry March day. The riots between the anti-globalisation protestors and the police during the opening of the new European Central Bank building, provided an appropriate film-set …
Very soon, however, my Mediterranean self overcame the German part of me. It's a well-known fact that, building up a pension pot is the German citizen's favourite sport 😉 "But so what?" -whispered my inner Mediterranean voice. "What's the use of this printed paper called money, if the ECB is maintaining historically low interest rates. We are living in the here and now! So, it's off to Albania, off to Italy!"
As everyone took advantage of the countless public holidays to take long weekend trips, I made my mind up – as so often against the mainstream – to stay put and give Frankfurt a chance for once. If you look closely, there are plenty of interesting places in our Mainhattan (that is how we insiders call Frankfurt am Main).
I seem to have set a trend: a month later, even Her Majesty the Queen, gave Frankfurt a chance. Anyway, she visited us here for half a day and seemed visibly "amused". In June 2015, the seven most powerful country leaders of the world gathered at Schloss Elmau in Bavaria to discuss the concerns of our world. On top, June brought us some unusually summery days for Germany. So many reasons to celebrate …
In July, suddenly everything was about the Balkans. In a referendum, the Greeks rejected the EU and IMF reform proposals, the Germans were sweltering in a Mediterranean 38 degrees hot weather (and so did not need Greece for holiday), and Chancellor Merkel visited Albania, Bosnia and Serbia. I took a last-minute decision for a overnight flight home, for attending the German-Albanian Economic Forum and an historical event live – the first visit of a Federal Chancellor in Tirana. I haven't seen the streets of my home city so empty of cars and secure since my childhood, when the annual Labour Day parade took place in front of the assembled Politburo.
From the sailing trip on the Elbe to the Economic Forum in Tirana, followed by two days on the Albanian Riviera:  just how I imagine the jet set life to be. Frankly, far too demanding 😉
What does a lioness do in August? Correct! What she does best: roar majestically, play to the gallery and indulge her lioness Dasein 🙂  At least according to the description of the Lion zodiac sign, for those who believe in astrology.
Then came September! In autumn 2015, the Volkswagen scandal hit Germany like a thunderstorm, rattling the inviolable sanctuary of the German economy, the automotive industry. I flew off to Calabria and preferred to rely on the good old Fiat Cinquecento …
As Raf Simons suddenly resigned as creative director of Dior in October 2015 and a few days later Alber Elbaz left Lanvin, I fell into a state of autumn fashion depression and went into hiding. I needed some time to come to terms with the fact that the future of fashion could lie in T-shirts and raincoats by Vetements printed with the words "DHL" or "Polizei". You know, those unavoidable little dramatic twists as in a rom-com like "Shopaholic" with an inevitable happy end such as the unbelievably bargain hunt of a pair of Charlotte Olympia shoes, or an unexpected invitation by the Frankfurter Allgemeine Zeitung to a Berlin Fashion Week event. These are the so-called First World Problems. We have plenty of them in the Western Countries!
The time passes very fast. Autumn was followed by the mild winter and the autumnal spring/summer (Still waiting for the impact of the Paris Climate Convention!), Bouchra Jarrar followed Alber Elbaz, Maria Grazia Chiuri replaced Raf Simons, Theresa May took over from David Cameron, Amerika seems to be ready for its first female President (Remember Sheryl Sandberg's "Lean In"?), Yoox merged with Net-a-Porter, Bob Dylan won the Nobel Prize in literature (Where is he actually?), the low interest rates still tempt me to invest in shoe-"shares" in Milan and Florence, Paris and London (After all, not only Chinese should boost the consumer sentiment index in Europe …).
Time goes by and 2016 will end in only two months.
The perfect world would be like a romantic comedy with the obligatory happy ending. We would celebrate Christmas and Hanukkah, Easter and Ramadan peacefully together; Theresa May, Angela Merkel, Hillary Clinton and Christine Lagarde would chat about Mrs. May's passion for (leo-)shoes and Frau Merkel's pantsuits over cosmopolitans in the evening after a peace conference, and Karl Lagerfeld would stage the next Chanel fashion show in front of the Arch of Triumph in North Korea's Pyongyang.
We don't live in a perfect world. There is war and suffering, dictatorship and poverty, self-doubt and grief, bad days and disappointed love. Nevertheless, we must not stop dreaming of a better world, get up each morning for facing the challenges of life and try to give this world something good from ourselves, even if it is only a smile.
P.S.: Marc Cherry couldn't have written a better closing monologue for Brenda at the end of each episode of "Desperate Housewives", don't you think?