The time just flies by. It is already end of November and I still "owe" more reports from my early fall trips. So, before it's Christmas already here comes the second part of my trip to Antwerp on the first weekend of October.
One comes across fashion, design and art at every turn in Antwerp, especially on an anniversary year like this one. Very impressive are the twelve gigantic pictures of Ronald Stoops exhibited in various public places of the city each one showing a selected work of the twelve most important designers of the Fashion Academy (The Antwerp Icons). I could at least detect only four of them.
In the last ten years, the small city of Antwerp has become the de facto hub in Europe for concept stores. Those fashion-forward boutiques offer a unique mixture of selected garments from famous and young aspiring designers, art, special books, furniture, rare perfumes, food and yes, sometimes even luxury rare cars can be found there.
I will never forget my first visit to Antwerp three years ago, as I was standing clueless in front of the "Walter" store gate (ran by the designer Walter van Beirendonck). It took a while until I found the button for opening that gate and I could not decide whether I should feel like being part of an Open Sesame fairy tale, or of a Star Trek movie. Recently, a new concept store has opened in the same place, Seven Rooms: seven virtual living spaces in a loft, where you can find something special for every area of ​​life, even toothpaste, Mua Mua Balinese rag dolls and olive oil from Southern Italy … and of course, fashion.
And then there is the legendary Dries Van Noten flagship store at the Nationalstraat, just a few steps away from the Fashion Museum or the numerous small furniture design and antique stores on Kloosterstraat.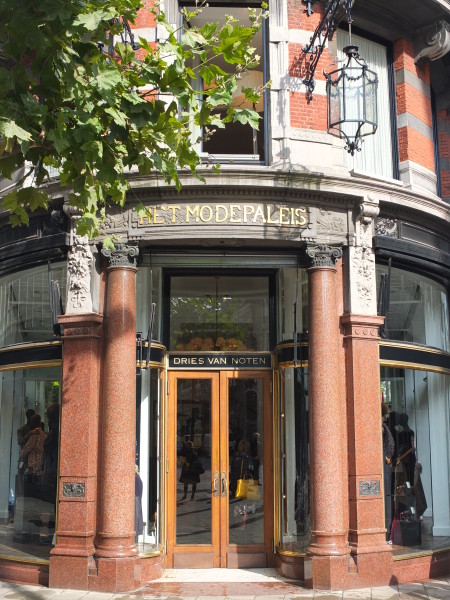 People in Antwerp love fashion and good food. No surprise as the city is only two hours away from Paris by train. Here are three pictures taken during my dinner at the restaurant "De Kleine Zavel" which I scouted during my first stay in Antwerp.
It was certainly not my last visit to Antwerp. There is still a lot to discover there. Maybe an alternative to the expensive destination Paris for all my readers?

Wish you a wonderful Advent weekend!