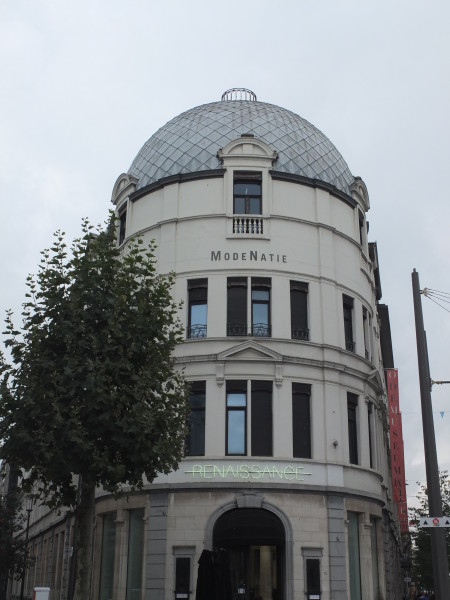 Belgium and Fashion? Thinking about fashion, you will think about Milan, Paris or London. But only if you do not know Antwerp. The Belgian city at the river Scheldt is known as the main activity place of Rubens, as the third most important seaport of Europe or the world's most important diamond trade centre, but in the last thirty years also as a training ground of world-famous fashion designers. Without names like Martin Margiela, Dries Van Noten, Haider Ackermann, Peter Pilotto etc. the fashion world would be missing a lot.

The Antwerp Fashion Academy celebrates this year the 50th and the Royal Academy of Fine Arts its 350th anniversary. Reason enough for the Antwerp Fashion Museum (MoMu) to dedicate an exhibition to its famous Fashion Academy and its graduates. On the first October weekend I travelled to Antwerp for visiting this exhibition. It was a wonderful experience to admire the creativity and the artistic skills of the fashion students of the last fifty years gathered in one place. Here are some of my many photographic impressions I would like to share with my readers.
Dries Van Noten, Martin Margiela and A.F. Vandevorst
Peter Pilotto, Bernhard Willhelm (AW/2000-2001) and Minju Kim (2013)
Manon Kundig (2012), Kaat Tilley (1991) and Wali Mohammed Barrech (2012)
For me, the most overwhelming place at the exhibition was the one dedicated to the so-called "The Antwerp Six", the former rebel graduates of the Academy who wrote a piece of fashion history in the early 80's: Walter Van Beirendonck, Dirk Bikkembergs, Ann Demeulenmeester, Dries Van Noten, Dirk Van Saene and Marina Yee. Martin Margiela was no official member of the group, but he belonged to it in the spirit. That is why later the "Six" and Margiela were referred to as "The Antwerp Six + 1".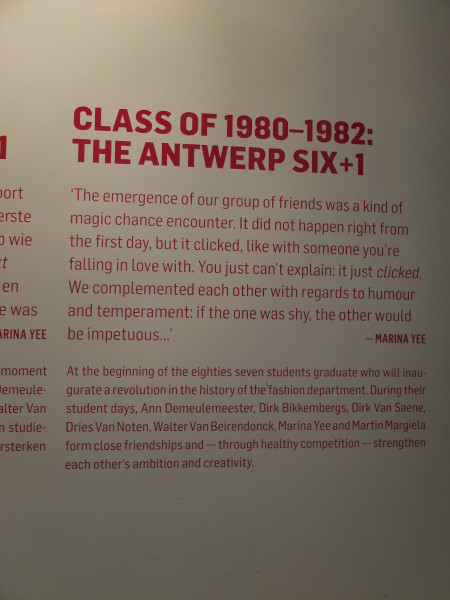 I wonder whether the guy on the picture in the middle is Margiela as a young graduate? It does not exist any picture of him nowadays….
I saw two visitors of the exhibition wearing similar fancy tights and shoes as the exhibits and asked them to take a picture. Not so far away from the exhibited red shoes, right?
Love the colour red… .
Thank you Academy , thank you Antwerp for this wonderful exhibition. Do not forget: the exhibition will last until the 16th of February 2014. There is still some time left to visit the MoMu and the beautiful historical city of Antwerp.